https://image.tmdb.org/t/p/original/x8oITZ3i9WuW4QaAIB62ZbLbk0w.jpg
Wähle einen Stream / Hoster:
A Certain Scientific Railgun: 1x13
I understand that bikinis make eyes wander, but one-pieces bring out curves so they match thin bodies better
Kinoho and Maaya ask Mikoto and Kuroko to help them model swimsuits for a web catalogue, with Kazari, Ruiko, Konori and Kuroko's rival Mitsuko Kongō joining in. After choosing their swimsuits, they are taken to a holographic room that can replicate different scenarios down to the touch. However, things get a little awkward when the scenarios switch between freezing, scorching and flooded scenarios. During their break, the gang make some curry, with Mitsuko's bluffs about her ability to make it backfiring on her. After having trouble, Mitsuko admits her failure and asks the others for help and the group end up making delicious curry all round. After work, Mikoto tries on a frilly bikini she was ashamed to wear earlier, unaware she's projecting it to the public.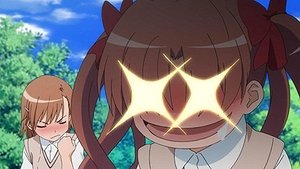 Dec. 25, 2009