https://image.tmdb.org/t/p/original/mbaLL9kMuE4adeiIGKpPmAtYQgj.jpg
Wähle einen Stream / Hoster:
A Certain Scientific Railgun: 1x9
Majority Report
Mikoto and Kuroko talk with Harumi Kiyama, the specialist Mikoto had previously met, about the Level Upper. They are later joined by Kazari and Ruiko, the latter of which has the Level Upper, but decides to keep it to herself. Mikoto later catches up with Ruiko, noticing she's a bit down. The next day, Ruiko stumbles upon someone being conned by three thugs over the Level Upper and can't bring herself to just run away. Kuruko coincidentally arrives before she gets hurt and subdues two of the thugs, but has trouble using her teleport powers against their boss due to his ability to distort light. He chases Kuroko throughout an abandoned building, but is defeated when Kuroko teleports windows to cut through the building's supports and bring the place down. Having barely just survived, the thugs surrenders his Level Upper to Kuroko. Later, Ruiko encounters some of her friends, and reveals to them that she has the Level Upper.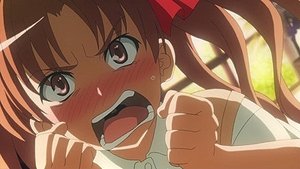 Nov. 27, 2009