https://image.tmdb.org/t/p/original/tYBwjQlUGqb9FRfKpFqXJOiuz9z.jpg
Wähle einen Stream / Hoster:
A Certain Scientific Railgun: 2x10
Particle Destabilizer (Meltdowner)
As Mikoto eventually comes face to face with Shizuri, she manages to use some of Frenda's leftover doll bombs to compensate for her weakened powers. Shizuri fights off these dolls by using shards of prism glass to divide her lasers, but Mikoto manages to use her with to knock her out with one of the remaining dolls. After finding and destroying the facility's data bank, Mikoto finds herself on the run from an angered Shizuri. Fleeing to a bridge, Mikoto manages to get the best of Shizuri by using Frenda's ignitive tape to collapse the walkway underneath her and cause her to fall down. As Mikoto makes her escape, Shizuri manages to learn about the Level 6 Shift project and decides it would be more amusing to let Mikoto suffer. The next day, Mikoto investigates the remaining facility, only to find it abandoned, allegedly having gone bankrupt. As Mikoto believes this to be the end of the experiments, she comes across Tōma by the vending machines.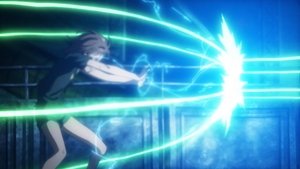 Jun. 14, 2013