https://image.tmdb.org/t/p/original/fXHLdSyEFX1PR6COzkhjvibKZaQ.jpg
Wähle einen Stream / Hoster:
A Certain Scientific Railgun: 2x20
Febri
As AntiSkill become curious over how the security bots functioned without any batteries, Mii treats the others by taking them to the public baths, where Mikoto starts to see Febri as something of a little sister, letting her have one of her rare Gekota finger puppets. Whilst heading home, the girls are led on a detour to a warehouse, where they are attacked by a mech. As Mikoto fights against the mech, which seems resiliant to her electricity, the mech suddenly stops functioning when it comes close to attacking Febri, allowing Mitsuko to defeat it with her Aero Hand ability. After Mikoto discovers the mech to be curiously unmanned, Febri comes down with a fever and is admitted into hospital. Meanwhile, it is shown that Shinobu is working with Artiomi's group. Back at the hospital, Mitsuko informs the others about how she, Wannai and Atsuki came to learn that Aritomi was attempting to 'reclaim' Febri.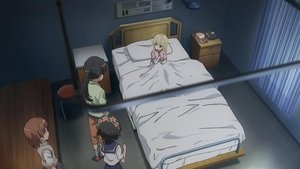 Aug. 23, 2013