https://image.tmdb.org/t/p/original/dFYq9pjVB1umohiGsFzVED3CdG0.jpg
Wähle einen Stream / Hoster:
A Certain Scientific Railgun: 2x22
Study
With Mikoto refusing to leave until she gets information about Febri, Therestina points her towards an organisation called Chemicaloid, hinting that they are planning something for the Academic Assembly. As Mikoto relays this to the others, also informing them about the severity of Febri's condition, Mitsuko helps them to finger the man from before, identifying him as Haruki Aritomi. Kazari's research leads them to a group known as the Study Corporation, which they suspect may have the factory where Febri and her lollipops were produced. Mikoto heads to the factory, where they discover ITEM already facing up against a group of mechs, overhearing they are powered by some form of esper ability. After ITEM leaves, Mikoto infiltrates the factory and finds Shinobu, who gives her data on the lollipops. However, Aritomi arrives, revealing the data to be fake, ordering Shinobu to inject Mikoto with a serum that renders her immobile.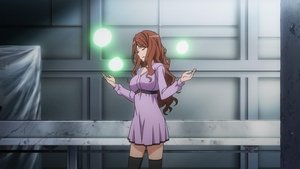 Sep. 06, 2013