https://image.tmdb.org/t/p/original/j93rBAIUyHek7rcao0MVCFEgmV5.jpg
Wähle einen Stream / Hoster:
Akame ga Kill!: 1x14
Kill the Giant Dangerous Beast
Esdeath's shock at seeing Tatsumi turns to delight, but the reunion cut short when Syura (the hooded man overseeing the activities of the new Danger Beasts) appears and uses his Shambala, an Imperial Arm that is capable of teleporting objects. Esdeath and Tatsumi are teleported to a remote island, where they are confronted by a gigantic modified Danger Beast created from Dr. Stylish's experiments. After it repels Esdeath's attacks, the Danger Beast is slain by Tatsumi. As night falls, Tatsumi and Esdeath decide to tell each other their back-stories; Tatsumi fakes his, while Esdeath reveals that she hailed from a clan that hunted Danger Beasts, with her father telling her that the strongest will survive and the weak shall fall. When her clan was attacked by a rivaling tribe and all of its members killed, she was told by her dying father that the clan was weak and that she needed to live strong. As a result, Esdeath enlisted in the Imperial army and ended up becoming a skilled general. Now thinking about getting off the island, Esdeath tries to hunt a flying Danger Beast, but Syura's teleport field appears and they jump in. Although they return back to the mountains, Tatsumi flees using his Incursio. Realizing that Esdeath cannot be convinced, he vows that the next time they meet, it will be as enemies.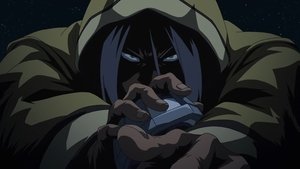 Oct. 06, 2014