https://image.tmdb.org/t/p/original/acSjEIBZawfcamRhIxVbHJb8XUr.jpg
Wähle einen Stream / Hoster:
Akame ga Kill!: 1x22
Kill the Little Sister
Even with Esdeath's efforts, the Revolutionary Army draws close to the capital, where the people start rebelling as well. Meanwhile, Kurome knows that she does not have much time left and sends a message to Akame, challenging her to a duel. Tatsumi attempts to dissuade her, but she leaves to confront her sister nonetheless. Once they meet, Kurome expresses all of her resentment for being left behind when Akame defected to Night Raid. Then, they begin fighting, but a giant beast interrupts their duel. After defeating the beast together, the two resume their fight. Wave appears and assists Kurome, but Tatsumi arrives to stop him, claiming that no one must interfere in their fight. Eventually, Akame defeats and kills Kurome. As Wave departs, taking Kurome's body with him, Akame mourns over the loss of her sister. Meanwhile, the Revolutionary Army surrounds the capital, and the prime minister instructs the Emperor to activate the Ultimate Imperial Arm in order to stop the revolution.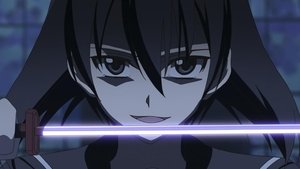 Dec. 01, 2014