https://image.tmdb.org/t/p/original/pOWYgJPsI8e3vOu3748QcGT7UI7.jpg
Wähle einen Stream / Hoster:
Akame ga Kill!: 1x9
Kill the Lust for Combat
After taking a bath, Mine fully resolves to avenge the deaths of her comrades Sheele and Bulat. At the training grounds, Tatsumi and Lubbock are taking push-ups, with Akame and Leone respectively sitting on their backs. Najenda later tells Night Raid that she will be leaving to recruit new members and assigns Akame as temporary leader. At the Capital, Wave tries to make an impression as other Imperial Arms users, namely Kurome, Seryu, Dr. Stylish, Run, and Bols, come and introduce themselves one by one. Esdeath arrives and introduces herself to the group, called the Jaegers, then announces their intention to hunt down enemies of the Empire. At Lubbock's library, Lubbock, Tatsumi, and Leone learn that Mine is now included in the Wanted list and an upcoming tournament sponsored by Esdeath is to be held at the Capital. Tatsumi pretends to be a blacksmith and joins the tournament, where he flawlessly defeats a muscular opponent without using his Incursio. Esdeath suddenly becomes infatuated over Tatsumi's fighting prowess and approaches him. Tatsumi thinks that the reward for winning the tournament is money, but instead, he is shackled by Esdeath and taken inside the Palace. Learning of Tatsumi's capture, Akame and the others wonder whether they should rescue Tatsumi.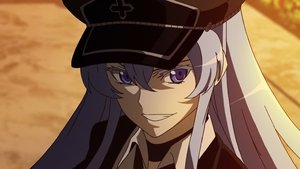 Sep. 01, 2014