https://image.tmdb.org/t/p/original/6V9FLEgDKpBke3Yg43ANAxPkbO2.jpg
Wähle einen Stream / Hoster:
Black Butler: 1x1
His Butler, Talented
Ciel Phantomhive is awakened by his butler, Sebastian Michaelis, who informs Ciel that Damian, the head of one of his factories, is coming for a visit. Sebastian orders the household staff, Baldroy, the cook, Finnian, the gardener, and Mey-Rin, the maid, to prepare for Damian's arrival. However, their attempts result in disaster, as Baldo overcooks the food, Finnian kills the garden by spraying herbicides on it, and Mey-Rin breaks all of the china. To resolve the situation, Sebastian orders them to rearrange the yard into a stone Japanese garden and has Bard make beef tataki. Damian, impressed with the staff's preparations, plays a board game with Ciel in which his character loses his legs and is ultimately incinerated. Following the dinner, Damian calls his associate, commenting that the factory he owns has been sold and he is attempting to fraudulently acquire more money from Ciel. When Damian attempts to return to the lounge, the scenario in the game occurs in real life, as he breaks one of his legs, and Sebastian locks him in the oven, to be burned with the dessert. He later runs away from the mansion.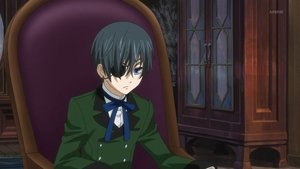 Oct. 02, 2008