https://image.tmdb.org/t/p/original/fhlRNZfnx2WS7deBQDwW25ZGAMh.jpg
Wähle einen Stream / Hoster:
Black Butler: 1x3
His Butler, Omnipotent
Elizabeth, Ciel's fiancee, arrives at the Phantomhive Estate for a visit. While Ciel does not wish to dance with her, Sebastian convinces him to learn to dance for the sake of preserving his social reputation, and teaches him a simple waltz. Later, Elizabeth is unhappy with Ciel wearing his own ring in favour of the one she has brought him, and she breaks Ciel's ring by throwing it on the floor. Ciel comes close to hitting Elizabeth but is stopped by Sebastian, who explains to Elizabeth that Ciel's ring is the Phantomhive family's ring. Elizabeth is upset, but Ciel throws the ring out of the window and declares that he is the head of the Phantomhive family, with or without it. Ciel then wipes Elizabeth's tears away and dances with her. That night, Sebastian finds Ciel depressed in bed and produces Ciel's ring, undamaged. Ciel wonders how many Phantomhives have died wearing the ring. He tells Sebastian to stay by his side until he falls asleep, amusing Sebastian and causing him to comment on Ciel showing his weaknesses to him.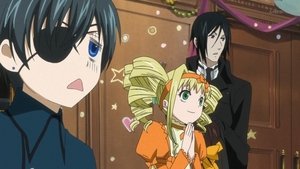 Oct. 16, 2008