https://image.tmdb.org/t/p/original/8WPwmvH6d6smfEgzrUGyWedShbG.jpg
Wähle einen Stream / Hoster:
Digimon Adventure:: 1x2
War Game
Yamato joins Taichi and Koshiro on their mission to stop the Argomon hacking into the U.S. military. On their way there, they learn the Argomon hijacked an American nuclear submarine which is about to launch a nuclear missle. Greymon and Garurumon work together to defeat the Argomon leader who evolves into a perfect form. Yamato then comes with an idea to defeat the leading Argomon which would endanger Greymon and Garurumon, but Taichi convinces him to proceed as their Digimon launch point blank attacks at the Argomon leader. But the Argomon leader survives and evolves into his ultimate form as the missile is launched. Koshiro informs them that the missile is targeting Tokyo, and when Taichi and Yamato refuse to give up, their Digimon partners suddenly merge into Omnimon when Hikari and Yamato's younger brother Takeru came in contact with some feathers falling from the sky.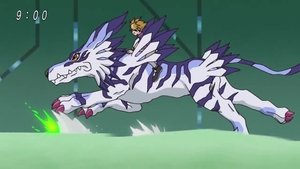 Apr. 12, 2020