https://image.tmdb.org/t/p/original/c8xSxLSm12bJE90XmLccswDyg8q.jpg
Wähle einen Stream / Hoster:
Food Wars! Shokugeki no Soma: 1x18
The Fried Chicken of Youth
Home to Diner Yukihira, Sumire Avenue Shopping District is on its last legs after the karaage specialty store, Mozuya, has taken all their customers. Soma recruits Kurase and Nikumi to help devise a plan to recoup customers: the Walk-n-Eat Karaage. The summer karaage campaign is about to begin!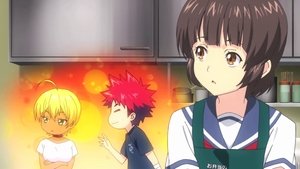 Aug. 08, 2015