https://image.tmdb.org/t/p/original/hxmmrt1D3O4vc3lSACEbSowtibo.jpg
Wähle einen Stream / Hoster:
Food Wars! Shokugeki no Soma: 3x16
Revenge Rematch
The advancement exam continues. In the 3rd exam, students are to battle Totsuki Elite Ten members! Soma is up against none other than Hayama, who joined the council recently. Their exam will begin in 3 days' time, with "bear meat" as its theme. Soma goes straight into trials but because of its distinct smell, bear meat is proven more difficult to handle. As Soma tackles bear meat fruitlessly, an unexpected person comes to his aid…!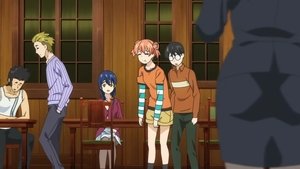 Apr. 30, 2018