https://image.tmdb.org/t/p/original/bUtd0n6oOxlRT2pVRUXcclI5nc5.jpg
Wähle einen Stream / Hoster:
Haikyu!!: 1x14
Formidable Opponents
The bracket for the Inter-High is announced. Karasuno has its final practices and works on back-end spikes and signals. The lost Karasuno flag that says Fly is revealed. Hinata and Kageyama reveal they've had a race every morning to the gym since they've been teammates. Kageyama currently leads 32-30, but Hinata vows to defeat him in every way possible until they can faceoff in a match against each other again. Yamaguchi secretly works on mastering the jump float serve so he won't be the only first year without an ability to contribute to the team. Ukai begins farming in the morning as another source of income for the family store.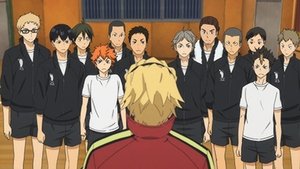 Jul. 06, 2014