https://image.tmdb.org/t/p/original/srSV43c6TejmvuJriWxnBFRmGeA.jpg
Wähle einen Stream / Hoster:
Haikyu!!: 1x20
Oikawa Toru Is Not a Genius
Oikawa and Kageyama continue to match up head-to-head a s they try to prove whose the superior setter. Their junior high days competing against each other are shown, and when Aoba Johsai begins to predict Kageyama's moves a shocking move is made as Sugawara is subbed in for Karasuno. Will this be a blow for Kageyama's ego that he can't overcome?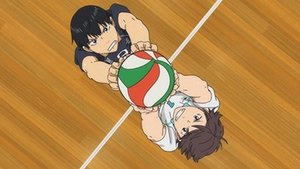 Aug. 17, 2014