https://image.tmdb.org/t/p/original/dKBddR63bTD8C3EXtG9nGQL4BJf.jpg
Wähle einen Stream / Hoster:
Haikyu!!: 1x23
The Point that Changes the Momentum
Aoba Johsai begins to pull away in set 3, forcing Coach Ukai to make some drastic decisions. Yamaguchi is subbed in as an ace server, but the pressure proves to be too much to overcome. A service error occurs, but the error allows Karasuno to calm down and climb back within two.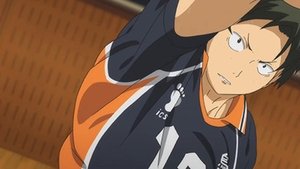 Sep. 07, 2014