https://image.tmdb.org/t/p/original/nptwKSgaeG0zpz0L1JsICLRN522.jpg
Wähle einen Stream / Hoster:
Place to Place: 1x11
I Look Forward to You in the New Year ⇔ Rice Cake Game
Part A: The five go to the New Year's festival. The following day, they come together at the Inuis' place where their teacher Kikue Sakuragawa, who seems to be Miiko's friend, is also present. They talk about new year's resolutions, play games, and have a meal. Part B: It's a very cold day. Due to a flu epidemic, more than half the class is absent, school finishes after lunch. Tsumiki and Io appear to have a 'moment' which leaves Io rather confused and flustered.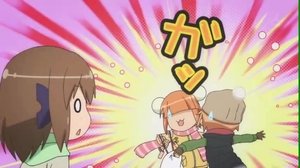 Jun. 21, 2012