https://image.tmdb.org/t/p/original/lo2JB1v8nPRZClJK4EiCAvlbPwg.jpg
Wähle einen Stream / Hoster:
When They Cry: 2x13
The Massacre Chapter - Part 8 - Finale
One after another, Rika's friends are killed while trying to protect her. Takano dissects Rika, but does so without anesthesia, as requested by the latter in an attempt to carve the identity of the culprit behind all the Hinamizawa murders in her mind and prevent the events from this and past worlds from repeating themselves. The villagers are rounded up at the school and gassed to death, while an ecstatic Takano proclaims her ascension to godhood.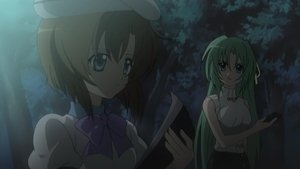 Sep. 28, 2007
2 - 1

Reunion

Jul. 06, 2007

2 - 2

The Disaster Awakening Chapter - Part 1 - Tag

Jul. 13, 2007

2 - 3

The Disaster Awakening Chapter - Part 2 - Powerlessness

Jul. 20, 2007

2 - 4

2 - 5

2 - 6

The Massacre Chapter - Part 1 - Law of the Labyrinth

Aug. 10, 2007

2 - 7

The Massacre Chapter - Part 2 - How to Change Destiny

Aug. 17, 2007

2 - 8

The Massacre Chapter - Part 3 - Fluctuation

Aug. 24, 2007

2 - 9

The Massacre Chapter - Part 4 - Negotiation

Aug. 31, 2007

2 - 10

The Massacre Chapter - Part 5 - Confrontation

Sep. 07, 2007

2 - 11

The Massacre Chapter - Part 6 - A Strong Will

Sep. 14, 2007

2 - 12

The Massacre Chapter - Part 7 - Hinamizawa Syndrome

Sep. 21, 2007

2 - 13

The Massacre Chapter - Part 8 - Finale

Sep. 28, 2007

2 - 14

The Festival Accompanying Chapter - Part 1 - Miyo

Oct. 05, 2007

2 - 15

The Festival Accompanying Chapter - Part 2 - Wriggling

Oct. 16, 2007

2 - 16

2 - 17

The Festival Accompanying Chapter - Part 4 - Strategy

Oct. 30, 2007

2 - 18

2 - 19

The Festival Accompanying Chapter - Part 6 - Opening

Nov. 13, 2007

2 - 20

The Festival Accompanying Chapter - Part 7 - Trap

Nov. 20, 2007

2 - 21

The Festival Accompanying Chapter - Part 8 - 48 Hours

Nov. 27, 2007

2 - 22

2 - 23

2 - 24

The Festival Accompanying Chapter - Part 11 - End

Dec. 18, 2007