https://image.tmdb.org/t/p/original/uhVb1NS0rtXKkfYbmJIxdRljr5t.jpg
Wähle einen Stream / Hoster:
When They Cry: 2x4
The Disaster Awakening Chapter - Part 3 - Pre-established Harmony
The day of the Watanagashi Festival comes, and once again Rika fails to warn Tomitake of his imminent death. Later, Satoko is convinced that a mysterious man is following her and Rika around, even though no one else has noticed any such thing. Worried of Rika's safety, she sets traps around the house to alert her of any intruders, and when one is triggered, her fears are confirmed.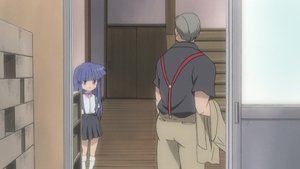 Jul. 27, 2007
2 - 1

Reunion

Jul. 06, 2007

2 - 2

The Disaster Awakening Chapter - Part 1 - Tag

Jul. 13, 2007

2 - 3

The Disaster Awakening Chapter - Part 2 - Powerlessness

Jul. 20, 2007

2 - 4

2 - 5

2 - 6

The Massacre Chapter - Part 1 - Law of the Labyrinth

Aug. 10, 2007

2 - 7

The Massacre Chapter - Part 2 - How to Change Destiny

Aug. 17, 2007

2 - 8

The Massacre Chapter - Part 3 - Fluctuation

Aug. 24, 2007

2 - 9

The Massacre Chapter - Part 4 - Negotiation

Aug. 31, 2007

2 - 10

The Massacre Chapter - Part 5 - Confrontation

Sep. 07, 2007

2 - 11

The Massacre Chapter - Part 6 - A Strong Will

Sep. 14, 2007

2 - 12

The Massacre Chapter - Part 7 - Hinamizawa Syndrome

Sep. 21, 2007

2 - 13

The Massacre Chapter - Part 8 - Finale

Sep. 28, 2007

2 - 14

The Festival Accompanying Chapter - Part 1 - Miyo

Oct. 05, 2007

2 - 15

The Festival Accompanying Chapter - Part 2 - Wriggling

Oct. 16, 2007

2 - 16

2 - 17

The Festival Accompanying Chapter - Part 4 - Strategy

Oct. 30, 2007

2 - 18

2 - 19

The Festival Accompanying Chapter - Part 6 - Opening

Nov. 13, 2007

2 - 20

The Festival Accompanying Chapter - Part 7 - Trap

Nov. 20, 2007

2 - 21

The Festival Accompanying Chapter - Part 8 - 48 Hours

Nov. 27, 2007

2 - 22

2 - 23

2 - 24

The Festival Accompanying Chapter - Part 11 - End

Dec. 18, 2007