https://image.tmdb.org/t/p/original/3qIonZAaJ2dwntNsgeaE49JKlxW.jpg
Wähle einen Stream / Hoster:
When They Cry: 3x2
Dice Killing Chapter (Part 1)
Now that she and her friends are finally free from the eternally repeating tragedies of June 1983, Rika has a new lease on life. While biking with her friends, Rika carelessly collides with an oncoming truck and is apparently killed; when she awakens, she finds herself in another Hinamizawa. However, this world is quite different from other worlds in the past: Keiichi, Takano, Irie, and Hanyuu are nowhere to be found; she is no longer close friends with anybody, Satoko being particularly hostile; the dam project that threatens to flood the town is still underway; and none of the successive tragedies she witnessed countless times happened at all, meaning Satoshi and her own parents are still around. For the first time in her life, Rika is at a complete loss for what to do.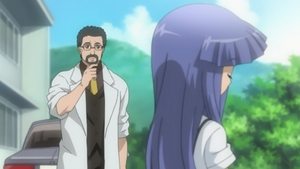 Mar. 25, 2009